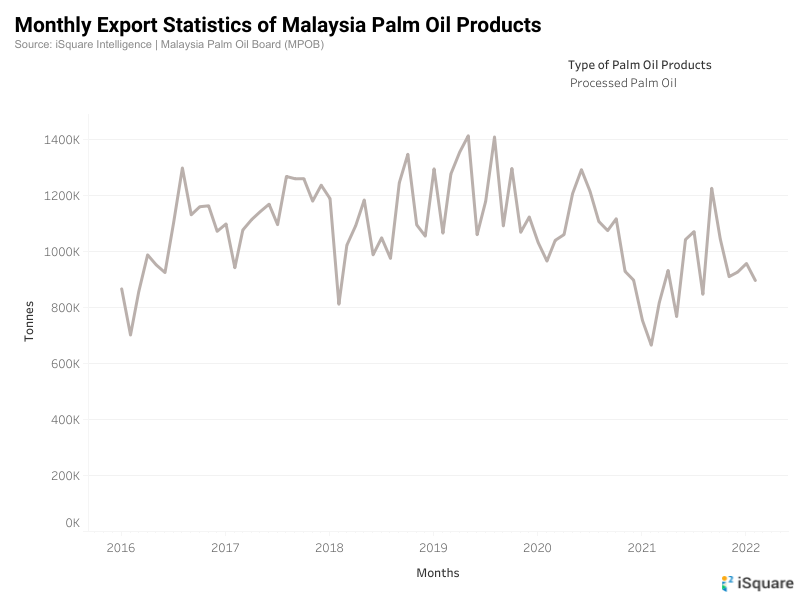 https://www.isquareintelligence.com/insights/malaysia_palm_oil_monthly_export_statistics_of_palm_oil_products
* Export of Malaysia Processed Palm Oil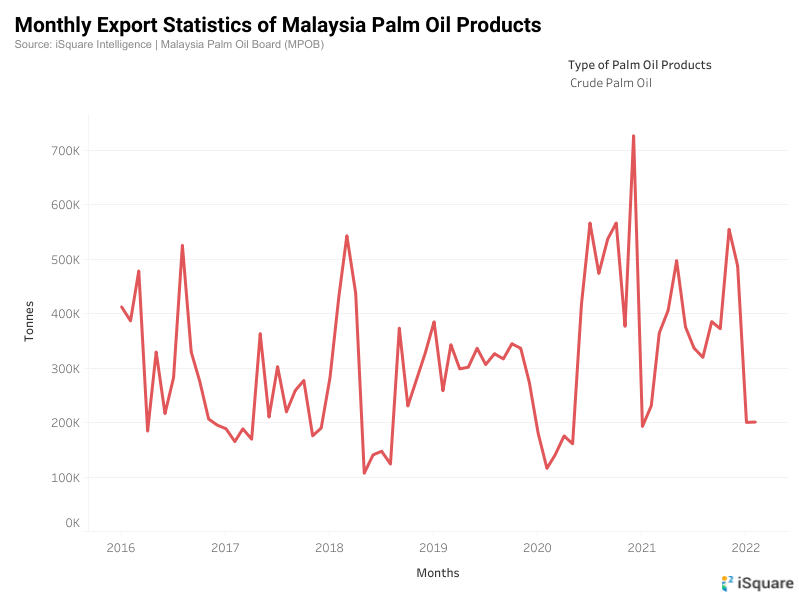 https://www.isquareintelligence.com/insights/malaysia_palm_oil_monthly_export_statistics_of_palm_oil_products
* Export of Malaysia Crude Palm Oil
On 17 March 2022, the Indonesian government announced that it plans to scrap the Domestic Market Obligation (DMO) policy on palm oil exports and replace it with export duty hikes. Previously, the Indonesia government requires all palm oil producers to sell 35% of their products in the local market.

The higher CPO export taxes will discourage palm oil producers from exporting their CPO supplies. The combined ceiling of palm export tax and levy would be raised from US$375 per tonne to between US$575 and US$675 per tonne, an increase of US$200 per tonne.

Based on the current CPO price of RM6,895 per tonne, Indonesian palm oil exporters will be subject to the maximum CPO duty of US$675 per tonne (RM 2,835). In order to compete with Malaysia palm oil in the global market, Indonesia palm oil exporters can only sell their products at RM 4,000 per tonne or just not export the palm oil. This will reduce the supply of palm oil at the global level, further lifting up the CPO prices.

Following the latest policy, pure upstream players in Indonesia will be the losers due to the hefty export duties, while local refiners are the winners as they have better bargaining power.